Celebrate Halloween
with us!

Horror is Alive
in Scottsdale
Monster Museum in Scottsdale, AZ
One of the Most Extensive Collections of Monsters and Creatures on Earth
Come step inside and embark on a thrilling journey that will ignite your curiosity and leave you with memories that last a lifetime. Once you do, you'll immerse yourself in a world of fantasy and wonder as you explore the fascinating realm of monsters from mythology, movies, and folklore.
Monsterland AZ, Expect the Unexpected!
At Monsterland Museum AZ, we pride ourselves on being the premier destination for all monster enthusiasts, both young and old. Whether you are a die-hard fan of classic horror films or simply fascinated by the legends and mysteries surrounding these creatures, our museum offers a truly captivating experience that you won't find anywhere else.
As you enter our museum, you will be greeted by an awe-inspiring collection of monster memorabilia and artifacts that spans across cultures and generations. From the ferocious creatures of Greek mythology, such as Medusa and the Minotaur, to the iconic monsters of silver screen classics like Frankenstein's monster and Dracula, our exhibition showcases the rich tapestry of monster folklore from around the world.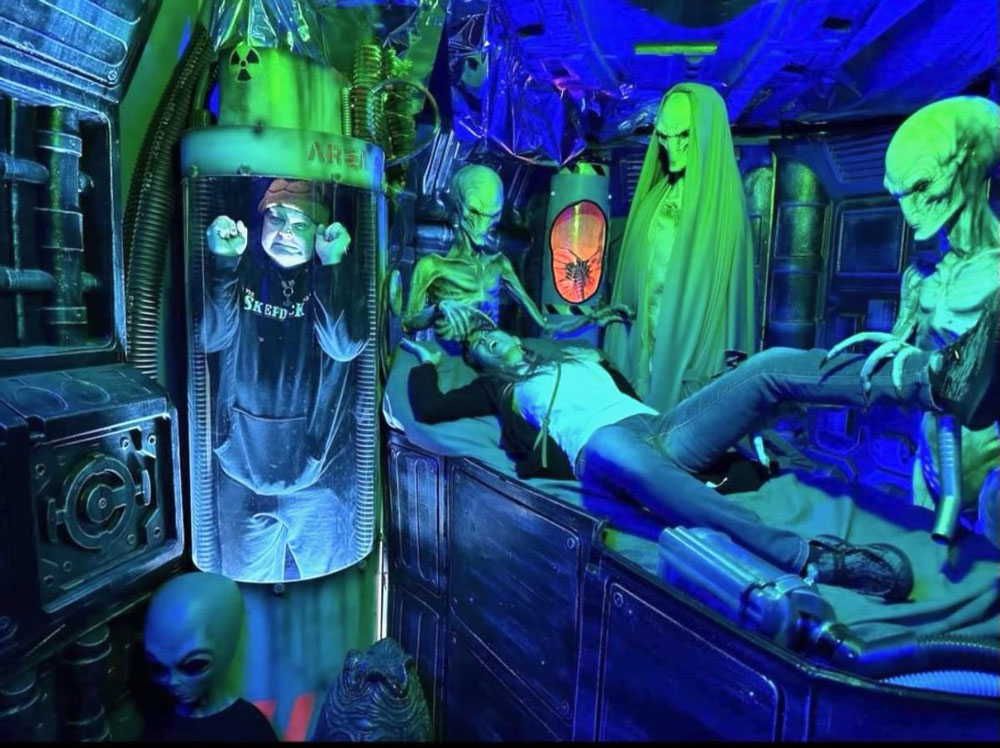 As seen:
Universal Studios, Six Flags, on Screen and Haunted Attractions Around the World
Our carefully curated displays are not only visually stunning but also offer educational insights into the history, symbolism, and cultural significance of monsters. Learn about the origins of these legendary beings, discover the myths and legends that shaped their stories, and unravel the psychology behind our fascination with the dark and mysterious.
But Monsterland Museum AZ is more than just a traditional museum; we believe in providing an immersive and interactive experience for our visitors. So you can get up close and personal with life-sized replicas of your favorite monsters, pose with them for unforgettable photos, and even participate in hands-on activities that bring these creatures to life. Who knows, you might even have a close encounter with a friendly Bigfoot or the Loch Ness Monster!
In addition to our permanent exhibitions, Monsterland Museum AZ also hosts a rotating selection of temporary exhibits that delve into specific aspects of monster culture. From exploring the folklore of werewolves to examining the modern evolution of vampires in popular culture, there is always something new and exciting to discover on every visit.
Guided Interactive Tours
Our museum is not just for individuals and families, but also offers an engaging learning environment for school trips and group outings. Our knowledgeable staff is dedicated to providing a fun and educational experience for students of all ages, tailored to their specific interests and curriculum needs. We offer guided tours, workshops, and interactive activities that combine entertainment with learning.
Monster
Themed
Merch
After indulging your passion for monsters at the museum, don't forget to visit our gift shop! It is filled with a wide range of monster-themed merchandise, including t-shirts, toys, collectibles, and unique memorabilia that allow you to take a piece of Monsterland Museum AZ home with you. Whether you are a casual fan or a hardcore monster aficionado, you are sure to find something to satisfy your craving for all things monstrously cool!
Pay Us a Visit for a
"Ghoul"

Time!

At Monsterland Museum AZ, we're committed to providing a safe and enjoyable experience for all our visitors. From enhanced cleaning protocols to limited capacity, we prioritize your well-being with strict safety measures while still delivering an unforgettable experience.
Anyone in the Scottsdale AZ and surrounding areas!
Come and join us at Monsterland Museum AZ, where imagination meets reality and the world of monsters comes to life! Prepare to be amazed, frightened, and inspired as you explore the rich mythology and cultural significance of these legendary creatures. And don't hesitate to reach out to us today with any questions or comments that you might have!